27th January 2023
Roscommon Community College    6          St Brendan's Community School Birr        3
The game began with lots of chances for the RCC side soon paying off with a super goal from outside the box from Hannah Kerr. Not long after, with an assist from Paige Caslin, Hannah left another ball in the back of the net. Birr, not deterred by RCC's early advantage came back strong scoring two goals. A penalty was given against the RCC girls but luckily Ena Dupanovic came up clutch with a great save leaving the halftime score 2-2.
With a similar start to the second half, Heather O'Sullivan had multiple good runs which ended up with another goal for RCC. Birr responded with an equaliser almost immediately, however Heather O'Sullivan, scoring her second goal of the game put RCC back in front. Paige Caslin followed with another goal to put her name on the scoresheet pushing the lead out to 2.
Birr had some great chances halfway through the second half but our defence were on point, with exceptional performances from Daniella Kerr and Aoibheann Murray. With the last play of the game Hannah Kerr ran down the wing, cut inside and forced a good save from the keeper. All was not lost as Heather O'Sullivan managed to finish off the rebound and scored with the last kick of the game to complete her hattrick finishing the game on a scoreline of 6-3. Well done girls!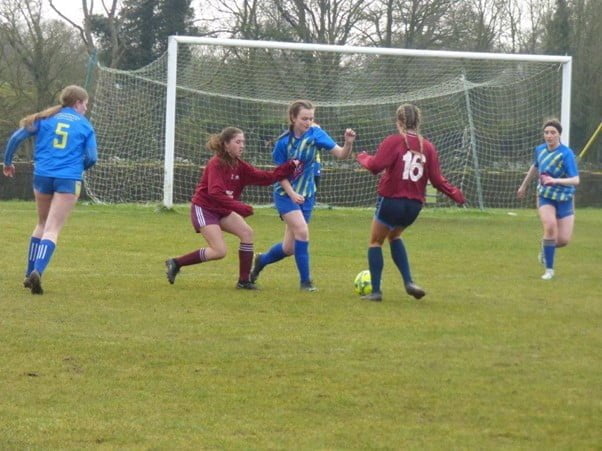 Senior Girls Soccer players photographed in action against St. Brendan's Community School, Birr