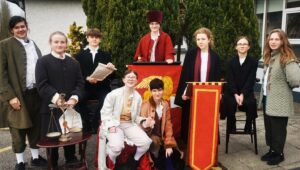 The World of Drama and Theatre explored in RCC
Transition Year students participate in a Drama and Theatre module, designed to introduce the fundamental elements of drama and theatre. Through role play, practical exercises, and group activities, students develop their understanding of the language of drama, stage directions, acting techniques, and staging a drama. Students analyse dialogue and monologues, including scenes for stage directions, character development and plot and are enabled the opportunity to perform confidently alongside their peers.
Additionally, students are encouraged to audition for a role in a play to be performed at the widely acclaimed Transition Year All-Ireland Drama Festival, hosted by Briery Gap, Cork. Roscommon Community College entered this prestigious competition for the first time in 2023, whereby the cast were awarded the 'Best Newcomer Award' and the Briery Gap Perpetual Cup for their captivating performance of the Trial Scene from William Shakespeare's play 'The Merchant of Venice'. The ingredients of drama were played out in abundance on stage in this exceptional performance, with each cast member delivering a powerful and captivating portrayal of their characters.
Participation in drama encourages students to develop an appreciation for the performing arts while promoting wellbeing and self-expression. The future of the performing arts is strong in Roscommon Community College, with such talented and dedicated students and teachers paving the way for more outstanding performances in the years to come.