Roscommon Community College is an award-winning 'Quality Mark Approved' and an 'Accredited Safe & Supportive School' in conjunction with BeLonG To Youth Services
Why did Roscommon Community College undertake these programmes?
Based on the results of the National School Climate Survey among second-level LGBTQ+ students in Ireland, we actively work to ensure our students:
Feel safe at school
Are not deliberately excluded by peers
Do not hear other students make homophobic remarks
Do not miss school because they feel unsafe or uncomfortable
Will complete the Leaving Certificate
Do not hear a school staff member make a homophobic remark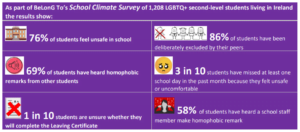 Roscommon Community College is the first school in County Roscommon to receive official accreditation for the national LGBTQ+ Safe & Supportive Schools Project.
Roscommon Community College has lead the way by partnering with BeLonG To Youth Services to undertake it's LGBTQ+ Safe & Supportive Schools Project, a ground-breaking whole-school approach to creating a school environment that is fully inclusive of LGBTQ+ students, thus changing the lives of thousands of young people across Ireland.
Having achieved Safe & Supportive School status, Roscommon Community College has progressed to the next stage of the process and is now classed as an ETBI award-winning Quality Mark Accredited school for the work, effort and dedication to equality, diversity and inclusion.
We are passionate about ensuring all of our students feel safe, welcome and supported in their school and local community.
Everyone has the right to an education and it is our goal that all students are happy to come to school and live a positive and fulfilled life.
We participate in Stand Up Awareness Week annually and have an active Student LGBTQ+ & Allies Group which meets weekly.  Our school takes a whole-school approach to representation with vivid and informative noticeboards, posters and signs throughout the school buildings.  We have gender neutral toilets available and are constantly working to provide the best learning and social environment for all students.
Staff have received training as part of the SASS Programme and are suitably confident in speaking about LGBTQ+ topics.  New staff are inducted and receive appropriate training also.
Roscommon Community College has a zero-tolerance approach to homophobic, biphobic and transphobic bullying.